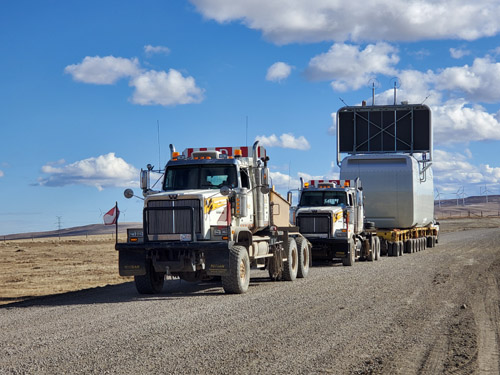 Due to the complexities of our industry, we have simplified our processes and procedures and systematized our approach to achieve in order to habitually exceed our keynote quality targets. Totran has named this process "customized full service."
Dedicated staff control the process and liaise with our clients to achieve consistently strong results that add value to our clients' bottom line. Though Totran is able to offer customized full service for any industry and any job, our specialties are services for oil and gas, wind and other energy industries. We use high-quality and well-maintained tools and equipment, and make realistic assessments using our wealth of knowledge and experience as a team to ensure optimal efficiency.
Let us handle all aspects of your job, from the initial planning stages and choosing highly trained drivers to organizing transportation safety cars and arranging haulage insurance. Our customized full service transportation includes but is not limited to:
loading diagrams
route planning
transportation safety cars and personnel
haulage insurance
highly-experienced transport drivers
Need to ship internationally? With offices in Calgary, Alberta and Houston, Texas, we are experts in cross-border transport between Canada and the United States, and can expedite the transportation of your loads across international lines.