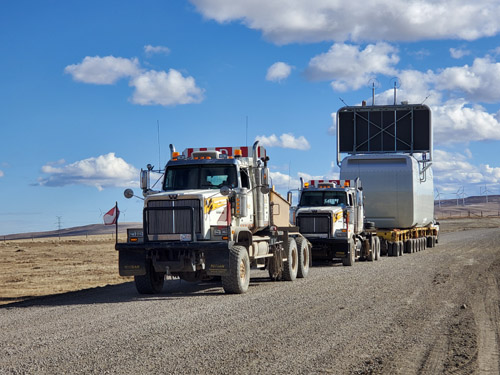 With our head office in Calgary, Alberta, Totran Transportation Services is an independently owned and operated Canadian company operating across North America in specialized heavy-haul transportation. We serve niche, custom and specialized markets.
Totran is now established as a key player in heavy haul for overweight, over-dimensional cargo. We are rapidly expanding as we pursue our corporate goal of making Totran the standard of excellence for heavy-haul transportation.
We provide you and your vendors with our customized full-service transport to take your load through project development and final site support. We have carefully built industry and cross-industry (project) relationships across North America, and we continue to invest in our equipment and truck fleet. We offer and advise you on our unique trailer combinations and our new fleet of blade trailers.
Totran serves and carefully orchestrates all stages and dimensions of heavy haul needs for the energy industry, including oil and gas rigs and equipment, gas plants, wind turbines, mining, and drilling. We take pride in our ability to manage and haul a wide range of loads from flat deck to extremely large multi-axle equipment.